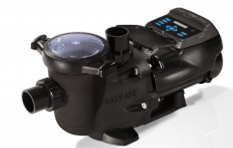 Falcon Pools is a certified PSEG Energy Star Dealer and Installer of Variable Speed Pool Pumps & Heat Pumps
There are more than 5 million in-ground pools installed across America and over 150,000 new pools are built annually. A key component of these pools is the pool pump, which re-circulates water through a filter to maintain water clarity and hygiene. All swimming pools have at least one recirculation pump, but many have multiple pumps. Many pool owners don't realize how much energy their pool pump may be wasting. Pool pump speeds vary based on the pool's operation. Filtration, for example, only requires half the flow rate of running a pool cleaner. Conventional pool pumps, with only one speed, are set to run at the higher speeds required of the pool cleaner and waste energy during filtration operation by running faster than necessary.
An ENERGY STAR certified pool pump can run at different speeds and be programmed to match the pool operation with its appropriate pool pump speed. The energy saved is considerable; reducing pump speed by one-half allows the pump to use just one-eighth as much energy.
ENERGY STAR certified pool pumps will:
Save you over a thousand dollars over their lifetime.

Pay for themselves in less than 2 years

Run quieter and prolong the life of your pool's filtering system.
How much energy is saved? On average, an ENERGY STAR certified pool pump can save you over $300 per year. In warmer climates where pools are used year-round, savings can be significantly higher. Check with your local utility, as many utilities are offering hundreds of dollars in incentives for ENERGY STAR certified pool pump.
Pool Pumps + Heat Pump Heaters
​​​​​​​
$150 - $650 Rebates
Did you know that your pool pump could be your home's second largest energy user? If it's time to replace the pool pump, an ENERGY STAR® certified model uses up to 65% less energy. Pair that with an Energy Efficient Heat Pump Pool Heater to maximize your savings. These typically last longer than gas pool heaters and they normally have much lower annual operating costs because of their higher efficiencies. Download a list of pool pump dealers and installers.

View Variable Speed - $350 Rebate | View Two Speed - $150 Rebate